Spiral Horror Movie Review
Spiral is a horror movie that feels like it's been paying attention. Taking all the iconic parts of modern horror and repurposing them into an atmospheric, slow-burn exploration of the worst parts of society, this is a movie that has a lot to say, and knows the tools best to say it with. Shades of Hereditary's cult of paranoia and broad strokes of Get Out's striking symbolism come to the fore in Spiral, a pastiche of slow-burn efforts that boils over into a provocative social horror.
We follow Malik (Jeffrey Bowyer-Chapman) and Aaron (Ari Cohen) as they relocate to a small sleepy town, a spot perfect for Malik to work on his writing as the pair raise Aaron's teenage daughter Kayla (Jennifer Laporte). As a same-sex couple, however, the duo instantly feel the judgment of their neighbours quickly settle upon them, and they're forced through skin-crawlingly awkward encounters until they find their feet with the local community.
Where Aaron settles in with ease, Malik finds this new life difficult - haunted by a vicious hate crime from his youth and acutely aware of his neighbours' increasingly unnerving behaviour. So when he spots a party full of eerily swaying bodies through the window, events quickly embody the movie's title, and Malik's grasp on truth, reality, and existence soon spirals out of control.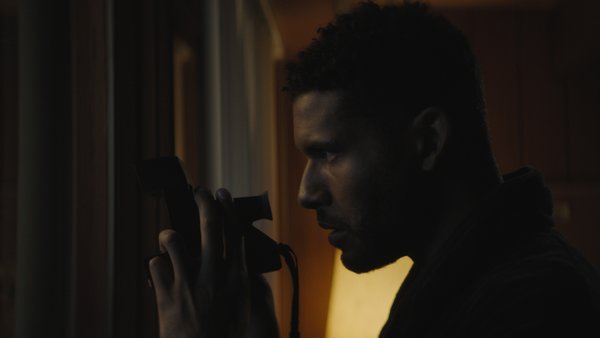 Bowyer-Chapman puts in a solid effort as the struggling Malik, convincing both as the sensitive counter to Cohen's business-minded exterior and as a man grasping at the threads of his life as they fray at the seams. It's fair to say that the characters in this film feel real for the most part, and though ones around the edges suffer from cliches due to lack of screen time - Malik in particular is excellently portrayed as a fresh face in the Satanic Panic canon.
As for Spiral as a whole, then, we have an interesting rumination on what identity means. There's moments of joyous freedom for Aaron and Malik as they revel in their love for one another, old enough to know what they want and unafraid to show it, and to see that targeted and dampened as the film plays out does a perfect job of reflecting on the 'othering' of anyone that doesn't fit in the straight white cis social boxes. Malik is a man trying to live and heal, yet continuously reminded that there are people out there who would refuse him both simply for his sexual orientation. It's an ugly story, one made even uglier for just how real it is even in our current society, and that a film packed with paranormal questions and robed strangers still hits so close to home is a stark reminder that the world is as much of a horror movie as what we get on screen.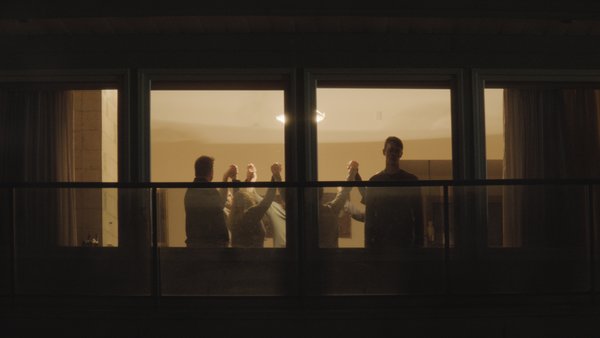 Director Kurtis David Harder isn't shy in making his messaging apparent, going so far as to unravel any nuance left by the closing moments with Malik's voiceover pointedly explaining why Spiral plays out the way it does. It's perhaps a necessary evil considering the subject matter, but a little more mystery might have put a heftier weight behind the film's implications that would elevate it closer to the high-brow style of movie Spiral is inspired by.
With a critical eye, there are clumsy moments in Spiral where we're told too much, and moments that have been shoehorned in that feel misshapen and unnecessary to ramp up the scares. But it's a film that has a purpose beyond a few things that go bump in the night, and that transcends its genre to tell a story still sadly prevalent and harrowing even when wrapped up in fictitious horror trappings. A few clunky moments don't derail a film that is largely put together incredibly well, with horror serving as a forgiving framework that allows Harder room to feel out exactly the story he wants to tell.
Overflowing with atmosphere, moodily shot, and bearing the moral weight of its intentions, Spiral is a neat little horror movie with a nasty streak running down the middle. All in all, it's a thoughtful addition to the social horror collective.
Spiral premieres on Shudder on Thursday 17th September.